CUTTING
We make cutting, also called dividing of the material, on a band saw Pilous ARG 220 Plus. This is a band saw made by the Czech manufacturer, by the company PILOUS – the band saws Ltd. We also own large machinery and a technology made by the company Bomar Ltd., which is also a very good Czech manufacturer. We are also able to carry out the cutting of a wide range of materials. 
The high quality and the good system of our work are confirmed by the certificate ČSN EN ISO 9001:2001.
THE BAND SAW PILOUS ARG 220PLUS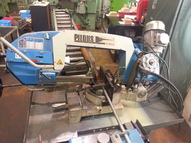 The band saw Pilous ARG 200 consists of the large cast iron arm, which is equipped with the big saw belt (27 x 0.9 mm). The construction of the band saw which is made like this enables both: multiple, serial cutting of the full materials and also dividing high-quality materials. The ideal gap of both cutting sides, on the right side there is the possibility of the cutting under 60° and on the left side under 45° , is absolutely optimal for dividing of any materials used for the locksmith constructions.
The whole concept of the band saw is made according to the newest technologies and this concept provides the customer with the guarantee of the high vertical cuts even if the dividing is made under the big angle. The band saw control is placed on the front side of the valve of the oil damper.
We are able to divide not only the bar materials but also the material with bigger dimensions by the band saw Pilous ARG 220 Plus. If we were supposed to sum up the benefits of our work, it is mainly:
High accuracy of the cut
High level of the cut precision