THREAD ROLLING
Rolling of threads is an activity when the threads are shaped during the cold moulding of the workpiece. The steps of the production are as follows: the workpiece is placed between two rolling tools with a very strong power of these two rolling machines the thread is made on it. So the material is pressed up to the base of the rolling tool and it is rolled until it has a needed dimension. 
The big advantage of the rolling is increasing of the material strength, which is made by the cold moulding. The workpiece also has the excellent values of roughness on the sides of the thread and in the basic radius. The threads made by us have a maximum accuracy and their production is fast and convenient. According to the newly used technologies we can reach the unrivalled prices when having the big orders!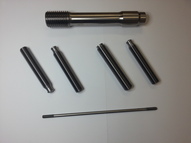 The high quality and the good system of our work are confirmed by the certificate ČSN EN ISO 9001:2001.
We offer:
Large choice of the rolling machines 
The diameters of the threads up to 40mm according to the material and the kind of the thread
Válcovačka závitů GWR 80

Technická data:
konstrukční velikost
800 x 1200 mm
válcovací síla
12 t
příkon stroje
5,2 kW
hmotnost stroje
2000 kg